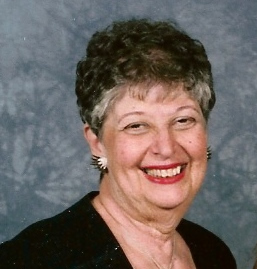 It is with great sadness that we announce the passing of our matriarch, Eleanor Lustig, on December 18th due to complications from Alzheimer's disease.
Eleanor was the voice of Lustig Jewelers, recognized and remembered for her classic ads with Steve Dahl and Garry Meier.
She was the creative force known for her artistic talents, displayed through her paintings and jewelry designs.
More importantly to us, our "mom" was the heart of Lustig's, evident in her passion to assist customers with all their jewelry needs and desire to make everyone around her happy.
Eleanor coined the phrase….. "Come in as a customer, leave as our friend".
She genuinely believed in those words and we strive to live by that motto.
With our personal experience to the pain Alzheimer's disease brings to loved ones, we are dedicated to help the Alzheimer's Association Illinois Chapter find a cure for this debilitating disease.
With heavy hearts and many fond memories,

The Lustig Family and Staff
"Come in as a customer….leave as our friend"
Custom Jewelry, Jewelry Repair, and Fine Jewelry Since 1949.
For over six decades, Lustig Jewelers has been the premiere jewelry store of the greater Chicagoland area, renowned for our competitively-priced fine jewelry and talented team of veteran jewelers. Whether you are interested in custom jewelry, gemstone jewelry, wedding jewelry, and jewelry repair, our showroom and customer service both remain a cut above the rest!
Lustig Jewelers is honored to be the jewelry store that our valued clientele turns to for their most important celebrations: birthdays, engagements, anniversaries and holidays. Our loyal customers know that they can always rely on our exceptional customer care through the process of meticulously selecting, designing, or repairing fine jewelry for any occasion.
Fine Jewelry, Engagement Rings
Our extensive collection of fine jewelry and stunning engagement rings will have you exclaiming "I Do!" well before your big day, and our wedding ring collection offers a wealth of options for the perfect complementary bands for brides and grooms alike.
Lustig Jewelers offers:
Exclusivity: We are exclusive area purveyors of exquisite jewelry lines including Love Story®, Meteor Cut Diamonds®, Carizza®, MaeVona® and more. You'll find unique, remarkable designs that you simply won't find elsewhere.
Extensive collections of bridal jewelry, from traditional to contemporary. We offer breathtaking collections including Promezza® and Peter Storm® jewelry. We also offer a large collection of men's wedding bands including Dora International®, Malo®, M-Fit, Triton® and Serinium®.
In addition to carrying luxury diamonds and gemstones, we are proud to offer natural and lab-created diamonds featuring Pure Grown® and "Forever One"® Moissanite. We also offer:

Fashion Jewelry
Our beautiful fashion jewelry lines include Charles Garnier, Shy®, Keith Jack®, Sirena®, Coeur de Lion®, Aero Diamonds®, Miracle Mark® and more.
Custom Jewelry Design:
If you can dream it, we'll help create it. Our unique 3D CAD technology enables our customers to be involved in real-time with one-of-a-kind design reflecting their distinctive personality. We also offer jewelry repair work performed on premises, often while you wait.
Located in Vernon Hills, Illinois, Lustig Jewelers is more than a jewelry store; we are a steadfast team of professional and experienced jewelers who are delighted to take our time with each client to ensure the best experience possible.
Read more about our story