Our Custom Jewelry Design will Meet and Exceed Your Vision
Most jewelry lovers can visualize exactly how they'd like a desired piece of jewelry to look, but buying readymade jewelry doesn't always meet that expectation. Let Lustig Jewelers be of assistance to create unique and elegant jewelry designs just for you. There are many ways to custom design jewelry to your precise specifications, and we are excited to help you create the perfect piece.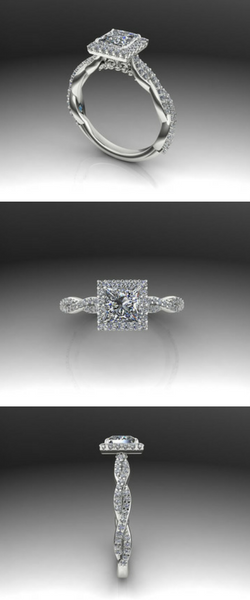 Create Your Own One of a Kind Piece
Perhaps you have a gemstone from an outdated piece of family jewelry that you have dreamed about re-setting for years. At Lustig Jewelers, we love creating distinctive design that breathes new life into an older, sentimental jewelry piece and transforms it into something truly unique.



Transform your unwanted jewels into original, wearable works of art
Do you have any underwhelming pieces of jewelry or inherited jewels that you simply can't fathom wearing? Let our in-house jewelry designer help create a visualization for a brand new piece of beautiful unique jewelry that reflects your personal taste. You may be amazed that with a few random modifications your unwanted jewels can be transformed into a gorgeous piece of custom jewelry just for you.


Give a beloved piece of jewelry an update
Maybe you would like to update an older piece to reflect how your own tastes have grown and changed. Perhaps, you would like to make revisions to your engagement ring for a wedding anniversary. Let Lustig Jewelers help you conceptualize a jewelry design that reflects the evolution of your life in an already beloved piece of jewelry.



Our In-House Custom Jewelry Designer
Roman, our in-house custom jewelry designer, has been with us for decades, delivering the highest quality custom jewelry to thousands of satisfied customers. First, Roman will meet with you so that he may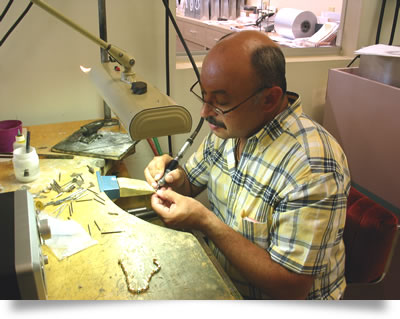 get a sense of your vision or provide you with some ideas by sharing his previous custom jewelry work for inspiration. You will included in the custom jewelry design process from conception to completion.
Casting and wax model work are performed on our premises and you are invited to experience Roman's superb custom jewelry craftsmanship firsthand. View your custom designed jewelry in-progress: examine the wax model, approve the jewelry at various stages, and sign-off with your 100% satisfaction with the finished product. All of our custom jewelry is 100% guaranteed.
Roman's expertise as a custom jewelry designer ranges from the simplest to the most complex jewelry design. Roman is a perfectionist, so you can rest assured that your custom jewelry will be as visualized and even exceed expectations. Schedule a consultation with Roman today and see why our clients come from miles away to work the most talented custom jewelry designer in the Chicagoland area.
Testimonial

Remember when stores provided service and remembered you when you came back. Dan, Jill, Roman and the rest of the team at Lustig Jewelers have always operated this way. The jewelry is unique and the service is top notch. My wife loves her unique wedding set and get compliments all the time!
Testimonial

I get SO many compliments on my ring! We love it!
Watch Lustig's own jeweler Roman skillfully perform some of the steps in creating custom designed jewelry (Click a video to view each step of the process.):