Repairs, Appraisals & Engravings
Jewelry Repair
Part of maintaining the value of your fine jewelry includes the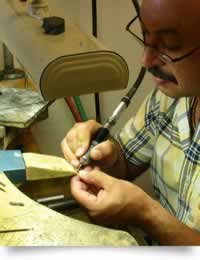 occasional visit to the jewelry repair shop. These days, unfortunately, most jewelry repair is outsourced and unnecessarily pricey, but that isn't the case at Lustig Jewelers. Our on-premise seasoned and talented jewelry repair technician may even be able to complete your repairs while you wait. At Lustig Jewelers, we know that both your jewelry and your time are valuable, and we are committed to repairing your jewelry quickly and professionally.


Lustig Jewelers
carries a wide array of jewelry findings and parts as well as the
largest gemstone inventory
in the region. This ensures prompt repairs to your exact specifications as well as jewelry repair prices that are unmatched anywhere.
If you have to leave your diamond with us during repair, we will plot the stone, indicating all unique internal traits, which will give you a peace of mind that your diamond is safe.
Jewelry Appraisal
It is very common not to know the worth of your jewelry, whether inherited, gifted to you, or purchased new or antique. When looking to insure your jewelry, Lustig's skilled appraiser will give you a clear, concise appraisal with a verbal explanation of worth and with formal documentation of price value. Lustig Jewelers takes pride in our detailed appraisals, providing fair value for diamond, precious gemstone, and semi precious gemstone jewelry. Appointments are required and appraisals may be performed in the presence of the customer depending on complexity and time.
Jewelry Engraving
Add to the sentimental value of bracelets or rings by getting them engraved with names, dates, or other special details. We ensure beautiful custom jewelry engraving that is always accurate and readable. Engraved jewelry makes for a particularly meaningful gift--for weddings, anniversaries, birthdays, etc., and can be completed on-site in a timely manner. In fact, in most cases, Lustig Jewelers can guarantee same-day engraving. We provide affordable jewelry engraving on pieces you bring in and free jewelry engraving on all pieces purchased at Lustig Jewelers.