The Lustig Jewelers Story - Offering Fine Jewelry Then and Now
Serving the Chicagoland Area Since 1949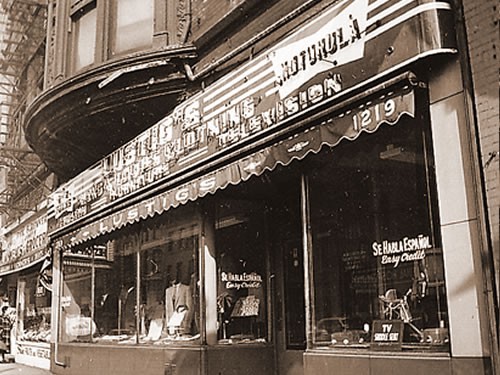 Family Business Department Store began offering Fine Jewelry
Lustig Jewelers, a family owned jewelry store founded in 1949 by Ted Lustig, was originally located at 1219 Clark street in Chicago, Illinois. It began as a department store carrying men's and ladies' apparel as well as appliances. Four years later, a move to a larger location at 1256 N. Milwaukee Ave in Chicago allowed for the addition of a fine jewelry department.
The store transitioned to specializing in engagement rings, wedding rings and custom jewelry.
By the mid 1970's, the primary focus was the selling and servicing of fine jewelry and since that time, countless customers have made Lustig Jewelers their go-to for engagement rings, wedding rings, custom jewelry, and all other fashion and bridal jewelry alike.
Dan Lustig joined full-time in 1981, and by 1986 opened a new location in Vernon Hills at Westfield's Hawthorn Shopping Center. On September 1, 2006, Lustig Jewelers moved to our current location in the Aspen Pointe Shopping Center in Vernon Hills.
Lustig Jewelers Today: Exemplary Customer Service
From the beginning, we at Lustig Jewelers have dedicated ourselves to providing exemplary customer service with fair pricing. We didn't just want to be jewelers, we wanted to really know our customer base. So in 1982, Eleanor Lustig coined the slogan "Come in as a customer...leave as our friend" and that philosophy remains the backbone of the company today.
And now at Lustig Jewelers we are still building on over six decades of personal customer care in addition to carrying the largest array of engagement rings, bridal jewelry, fine jewelry, gemstone jewelry, and custom jewelry. The combination of our first-rate customer service and our jewelry inventory ensures that we are the ideal jewelry store for all of your needs. We guarantee the finest shopping experience in the region.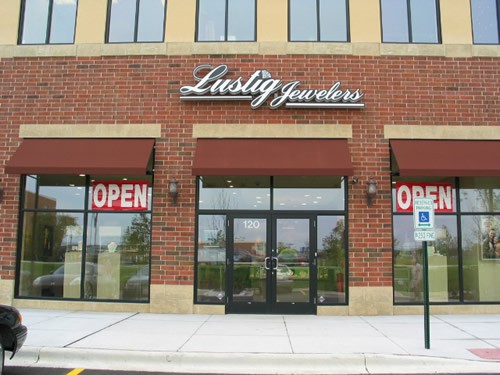 "Exceptional Customer Service is an understatement. It's more like perfection!"
-Jim Blair, loyal customer
Expanded Gold Buying Program
Lustig has expanded our services to include a gold buying program, which offers clients an opportunity to turn out-of-date or broken gold jewelry into instant cash. Customers may also opt for creating new, custom jewelry designs with the gold they have brought in.
Custom Jewelry Design
Modern jewelry lovers often have a strong sense of their personal styles, and may have specific visions for personally designed, unique engagement rings or pieces of fine jewelry they wish to own. We have an on-premise master bench jeweler, which is something of a rarity today. At Lustig's, it's an affordable luxury to provide custom jewelry made to order right in the store.
If you can dream it, we'll help create it. Our unique 3D CAD technology enables our customers to be involved, real-time with one-of-a-kind design reflecting their distinctive personality. We also offer jewelry repair work performed on premises, often while you wait.
Commitment to Conflict-Free Diamonds & Gemstones
Lustig Jewelers is committed to providing the highest quality jewelry to our customers. We also want our customers to buy with confidence knowing that we only sell conflict-free diamonds. All our diamonds are certified through the Kimberley Process and System of Warranties. For additional information, please visit Diamondfacts.org.